Travel
Tourists claim they were abandoned on snake-infested island after Thailand snorkeling scam
Surrounded by snakes on … an island!
A group of British teens are reliving the traumatic experience of being stranded on a small island ridden with snakes and jellyfish during a recent vacation to Thailand. One of the adventurers has taken to Twitter to share the story of how they were allegedly scammed by local men under the guise of a $26 snorkeling trip back in June. Their tale has since gone viral.
Emily Ince of Lancashire, England, was enjoying an exotic vacation with 17 pals when the group was approached by three men who offered to take them on a snorkeling tour near the Hua Hin seaside resort of the Prachuap Khiri Khan province, The Sun reports.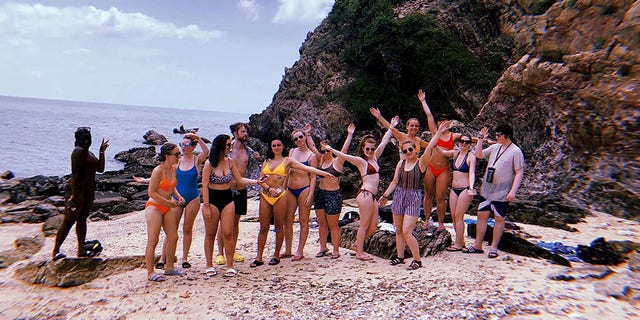 After quickly agreeing, the group handed over $26 a person and hopped into the men's speedboat — before being instructed to jump out of the watercraft and swim roughly 30 feet to a small, isolated island. They would later learn that the island was "infested" with creepy-crawly creatures.
"I was in the first group and we were really excited, but as we came close to the island, they stopped the boat about 32 feet away and made us swim from the boat to the island," the 19-year-old recalled, as per the outlet. "When we eventually got on the island, the three men just chucked us two snorkeling masks, which looked like they were from [a discount store] or something, and advised we keep away from the snakes.
"Understandably we were confused and a bit concerned about that, and then my friend got stung by a jellyfish whilst swimming over because the waters were infested with them," she continued. "We were terrified when he mentioned the snakes. I was genuinely concerned we were going to be trafficked or something."
Effectively abandoned for three hours without food or water, the squad was eventually rescued, The Mirror reports, thanks to a multi-party effort.
"We were there for hours; in the end we saw a fisherman and he helped us contact the people who worked on the beach," Ince recalled. "It took a lot of effort and persuasion but the three men came and got us and the journey back to Thailand was very quiet because everyone was so angry.
Though the group of British tourists failed to receive a refund for the awful ordeal, they have appeared to get a chuckle out of regaling the horrid tale.
In recent days, Ince took to Twitter to share the story, where it has since gone viral with more than 8,600 likes and 100 comments, according to The Sun.
"Can't stop thinking about last year when we paid 3 random men on a beach in Thailand to take us snorkeling and they drove us to an island full of rattles snakes and left us ???" she wrote online. "What the f— were we thinking and who let me go along with that [?]"
In a larger sense, travel expert Rick Seaney recommends that tourists always be wary of fraud when venturing abroad, no matter the destination or size of the travel group. According to Seaney, "all-to-common scams" of late include the theft of money, phones and other valuables.
|Fox News