Usain Bolt made his much-anticipated professional football debut on Friday - but tired in a 20-minute cameo for Central Coast Mariners.
The Jamaican sprint king. who has been given a chance to train with the Australian side in a bid to win a contract, finally came on in the 71st minute of a pre-season friendly against Central Coast Football, to huge cheers from the crowd and fireworks.
Almost 10,000 people packed the Central Coast Stadium to see the eight-time Olympic champion - wearing the No. 95 shirt in a nod to his 100m world record time - but he was unable to get on the scoresheet as his team-mates thrashed the amateurs 6-1.
Starting on the left wing, Bolt fluffed his first touch, making a run on the inside only for the through-ball to hit him on the heel.
The 32-year-old got himself in the box soon after but a cross whipped in from the left went over his head.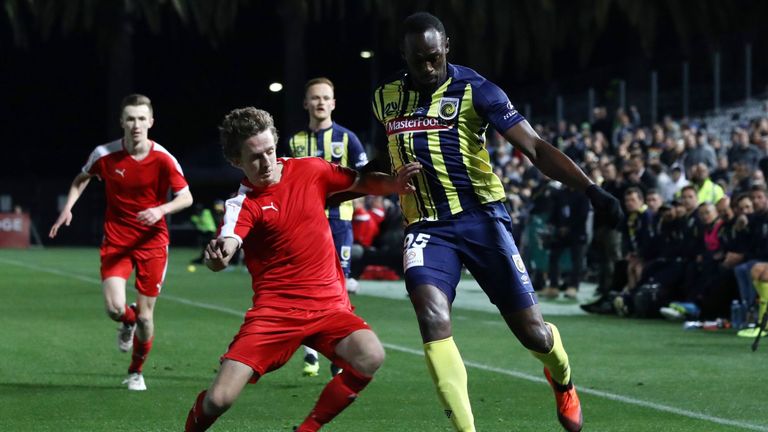 Playing more centrally, his best touch came 10 minutes after coming on when he controlled a bobbling ball with his right foot, rode a challenge and laid it off with his left foot.
Bolt had admitted before the game he was not match fit and, pouring with sweat, he tired quickly before a late flurry, narrowly failing to get on the end of a low cross after a sprint into the box, before seeing a shot blocked.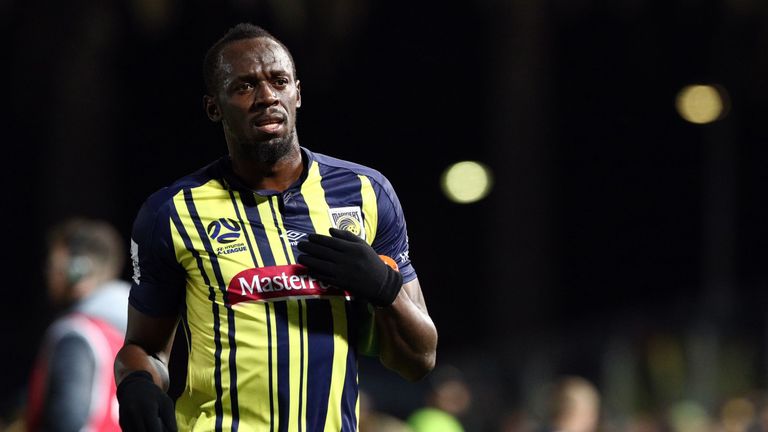 Speaking after the game to Fox Sports, Bolt said: "It was good. It was what I expected. The crowd gave me plenty of motivation.
"I think my fitness is much better, that the first week since I came here. I'm grateful to the Mariners for giving me the chance."
Bolt, who had given high-fives and thumbs-up to fans while warming up on the touchline, has previously tried out with clubs in Germany, South Africa and Norway to no avail.
The Mariners are hoping to turn him into A-League material in time for the start of the 2018/19 season in late October but former Australian international Robbie Slater, who was watching the game, said he still had plenty of work to do.
"He was short of a gallop when it comes to match fitness," Slater said.
"He made some nice little runs, but obviously he needs to learn some more about when he should make the runs and where. He should also have more confidence to go and get the ball.
"But look, it's a special moment for him."
|SkySports